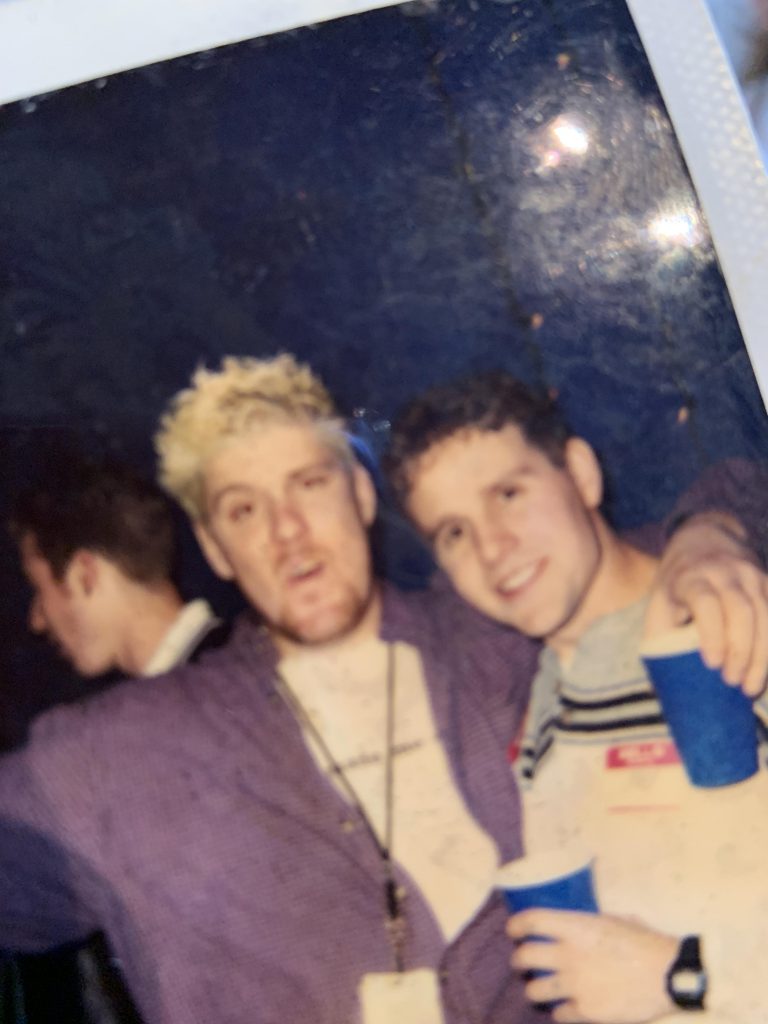 So, my oldest kid came over this weekend and it seems she's landed in that phase of life that many of us have – the one in which we choose to throw off the bonds of our natural hair colour and experiment. That sent me looking at old photos of myself from one of these phases – of which there were a few. It would seem that apple landed somewhere near the tree. Important items of note in this photo;
I still own the flannel Abercrombie and Fitch shirt I'm wearing in this photo – and I was actually wearing said shirt the first time I met my wife. That it has lasted through the volume of abuse and substances I've thrown at it should make A&F proud, a testament to their knowledge of fine stitchery, or at the very least their ability to sub-contract some. The t-shirt I'm wearing was one of a limited edition of three hand screen printed by yours truly. Though most people found it humorous at the time, it is a simple print of one line of text that would surely get me kicked off the island, cancelled and blocked and reported now. It most certainly makes me ineligible for higher public office or a Supreme Court seat. I have no idea where the other two are.
The gentleman next to me is not on Instagram, is currently a commercial star of considerably minor repute living in Hollyweird who would serve as the best man at my wedding.
Finally, those of of my generation-ish should stop for a moment and consider the significance and ubiquity of the venerable Solo Cup in your past. Chances are, it's been there with you through some of both the worst and the best times of your life. I can think of few things that upon sight alone could universally generate such a mind flood of flashbacks and cold shivers that is both enrapturing and gut wrenching at the same time. Grab one today and just hold it for a minute and see what appears in any one of your mind's eyes. Maybe have a Tums ready as well.