Managed to slam in 3 consecutive days of fantastic riding with great peeps to open the summer season.
Saturday I led my usual Radical Edge Donut Roll Beginner Road ride. I only had one rider this week, and Mike's not exactly beginner, so heading out bright and early at 8, we beat the heat and had some great conditions. A tail wind heading out to Oromocto provided us with a pretty blistering pace that had us chuckling at ourselves at the turnaround knowing full well what we were in for on the way back. Taking turns with short pulls on the way back gave us a good workout into the headwind and we managed to get back pretty quick leaving the remainder of our day for adult boring stuff. The 50k-ish loop combined with my 15k rides to and from the ride start to home got me past the 75k mark on the day and there was still more in the tank.
Sunday was the Third Annual Radical Edge Gravel Grind in support of Special Olympics New Brunswick. I can claim original gangster status as having ridden since the first year, and hopefully it's a streak I can keep alive, as the event keeps improving. A later start date this year meant no rain and no jackets/baselayers (!) for the first time! Full sun and soaring temps provided a great, if not even a bit warm ride, and the atmosphere and the post-ride feast and cool-down at the new Picaroons Roundhouse was well-appointed and most welcome after a morning baking on the gravel.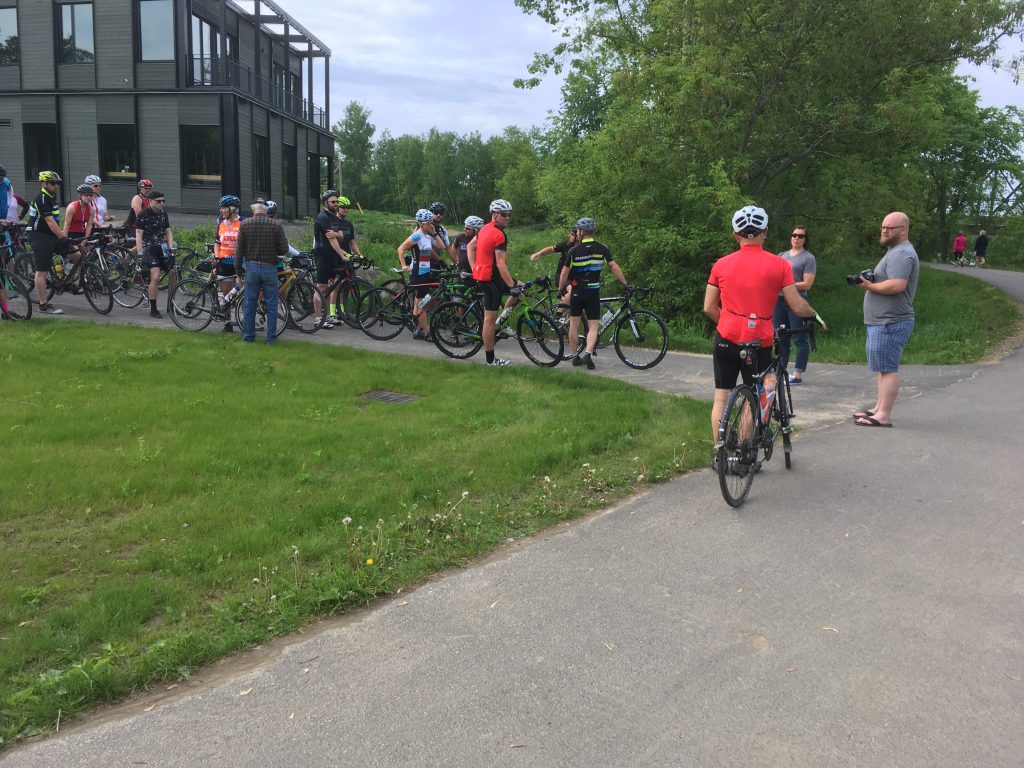 I had planned to ride the 75k distance but at the last minute, they were short staffed, so I volunteered to sweep the 50k route with a backpack of tubes and tools to assist anyone that ran into problems out on course. It was a refreshing change to take it easy off the back, take in more scenery and chat more with folks along the way – a real fun experience and reminder of what cycling at it's core is about as well as what a great riding community we have around New Brunswick and the Maritimes. Best part of all, I had to fix a grand total of ZERO flats! Kudos to everyone for being so prepared! I had wavered back and forth on which bike to take to this year's ride, my ol' trusty Surly Cross Check or the Giant Defy Advanced 1. In the end I went with the Defy and was super happy with the way it performed. Stayed comfy all day, and the D-Fuse seatpost in combination with the carbon frame really was great at smoothing out the rough stuff. As a bonus, turns out my Porcelain Rocket top-tube frame bag that I acquired for the Cross Check also fits the Defy. Good to know!
As mentioned in a previous post, I worked with Josh and Jane at Special Olympics New Brunswick this year on some branding and marketing materials for the event and they've taken done excellent work and really turned it into a top notch event. Over 160 riders from all over the Maritimes, showed up and were treated to a well-supported ride and atmosphere, locally sourced and catered food, local microbrews and a phat table of door prizes, including a Thule T2 hitch rack. This event has grown and improved every year and is fast becoming a 'mark your calendar' ride for the cycling community in our region. Of course the most important part is in the end, over $17,000 was raised to support Special Olympics New Brunswick!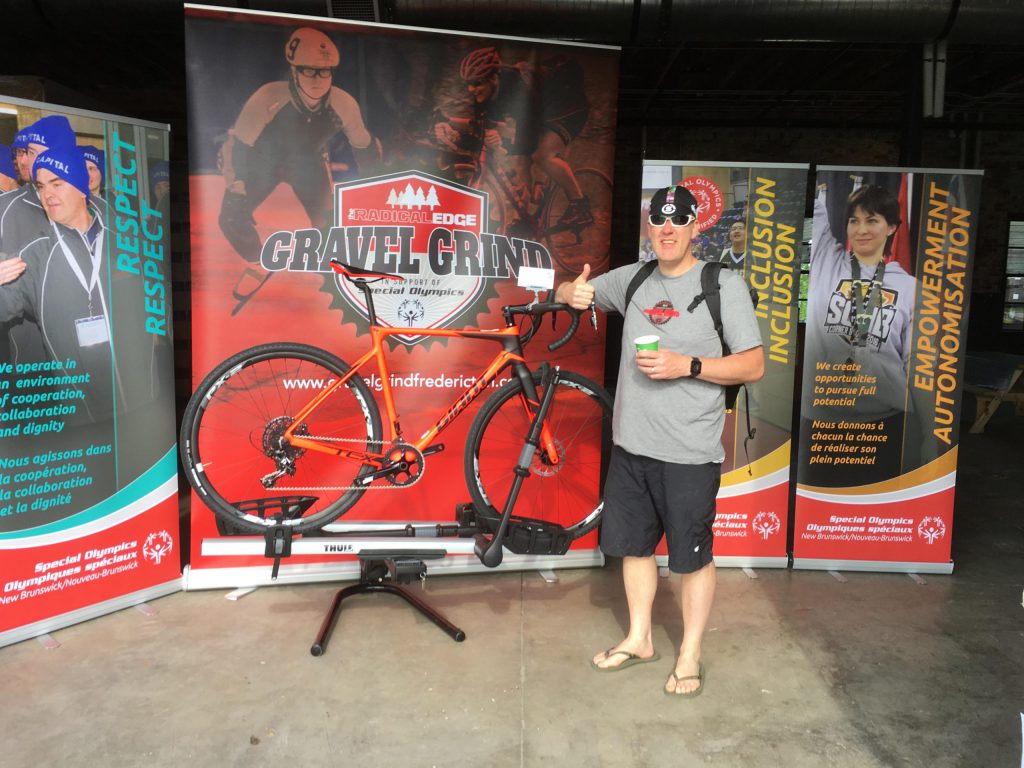 After baking in the sun all morning, Sunday evening I rolled out to Killarney Lake to lead a Rad Edge/Giant Sprockids Fredericton session teaching the next generation of shredders some MTB skills. It was super hot and the kids worked hard, had fun and hassled me the entire time to let them jump in the lake – which I regrettably couldn't – though I kinda wished I could as well. They did manage to treat me to the 'Gun Show' however before the session was over.
Monday evening I put on my Giant Ambassador hat again and headed out to the Giant Bikes MTB Demo at MVP. I've been reading online from months about the Trance and Anthem and the differences between the two, trying to figure out which one I'd like – BUT JUST FOR RESEARCH'S SAKE BECAUSE OMG I'M NOT BUYING ANOTHER BIKE RIGHT NOW IN CASE MY WIFE IS READING THIS – HI DEAR. Sigh. If you're ever in the market for a bike (of any brand really) and have the opportunity to get out and demo some, definitely make an effort. Even if you're not in the market, riding different bikes over the same trails in the span of an hour or two will make glaringly obvious the differences and is a great way to learn about the features, geometry and handling of bikes. Of the two, I came to the conclusion that I'm an Anthem guy – though if I were to get one – which I'm not (see all caps above) – I'd go with the Anthem SX which is kind of a marriage of the two. I won't bore everyone here with details of my experience and my reasons for choosing – if you're interested, hit me up and I can talk/message your ear off. Everyone was having a lot of fun trying out the electric mountain bikes, the Dirt E+ and the Full E+. I wanted to make sure I got rides in on the Trance and Anthem so I ran out of time for that. Honestly, I need to keep burning as many cals as I can when I get out anyway. Rubs belly.
Super stoked that we have such a great riding community here in Fredericton and the surrounding area and a real treat to see it growing over the past few years. I have to give props to the Radical Edge, Giant Bikes and Special Olympics New Brunswick – particularly all the fine humans working hard with each of 'em – for definitely setting my summer riding season off on the best possible foot. Looking forward to many summer miles!