There is a section of the Lincoln Trail on the south-side in Fredericton by the airport that I call The Forest of Fredrenberg after the famous Forest of Arenberg sector in the single-day classic, Paris-Roubaix. Also known as the Trench of Arenberg, it is a legendary section of 'road' in cycling.
"Officially, the 2,300 meters of cobbles were laid in the time of Napoleon I, in the late 18th century, crossing the large forest of Saint-Amand-Wallers, close to Wallers and just west of Valenciennes. The road is straight and narrow (3 m), dropping slightly when entering the forest from the village of Arenberg, then rising in the second half. The altitude is 25m at the start and 19m at the end. The cobbles are extremely difficult to ride because of their irregularity. Many fans have taken away cobbles as souvenirs, leading to a regular check-up of the road.[1]

François Doulcier, the president of Les Amis de Paris-Roubaix, the voluntary association which takes care of the race's cobblestones, said that "objectively speaking, it's the worst-maintained sector of cobbles in the whole race", giving three reasons: the rough and grooved surface of the stones, resulting from poor cutting; the wide gaps between the stones; and the uneven laying of the cobbles. These difficulties mean that riders have to carefully balance the need to avoid accidents and mechanical problems with riding at high speed.[2]

It has been noted that the road's layout, as a long straight surrounded by trees, is unique among Paris-Roubaix's cobbled secteurs: Doulcier has stated that "it gives the impression that you're standing in a cathedral. Even if it were tarmacked over, it would be impressive".[2]

-Wikipedia Page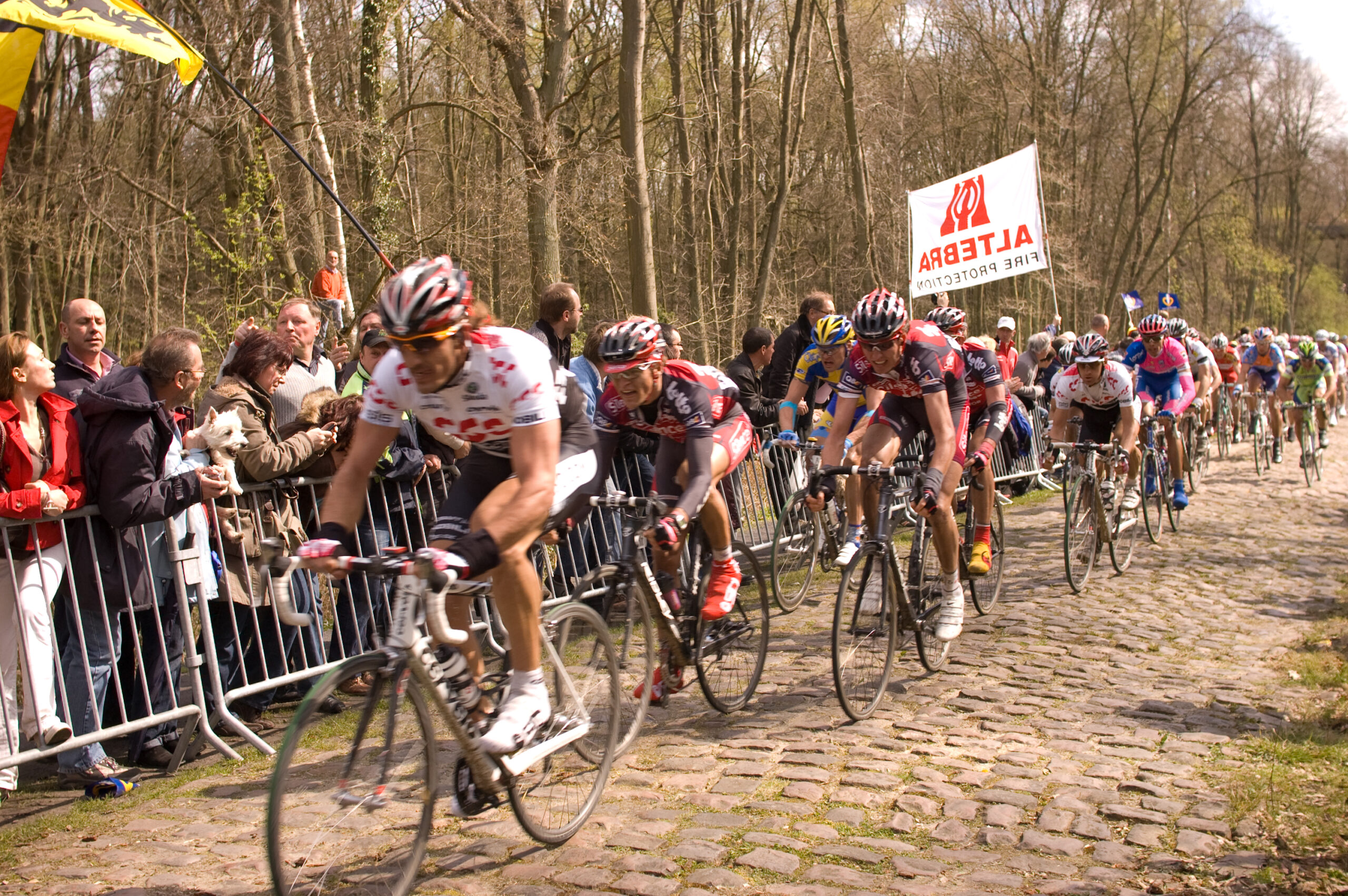 The real Arenberg is 2.3km long but probably feels like forever. The Frederenberg is bout 2km and the surface is a tad better – it's a long section of what seems to have once been paved, has broken down into chunks and had gravel thrown over the top whilst being savaged by a grader from time to time.
At one point there is also a tree stump right in the middle of the trail.
Of course there was coffee and other shenanigans. And a big crane.