Two nights ago the weather forecast was calling for rain in the form of 'buckets'. I think 'buckets' is a specific meteorological term, but I'm not meteorologist. Not one to ignore a seemingly obvious sign from the gods – or anyone with a 'gist' at the end of their title, I thought this was a perfect time to mount up my @porcelainrocket Microwave Panniers [1].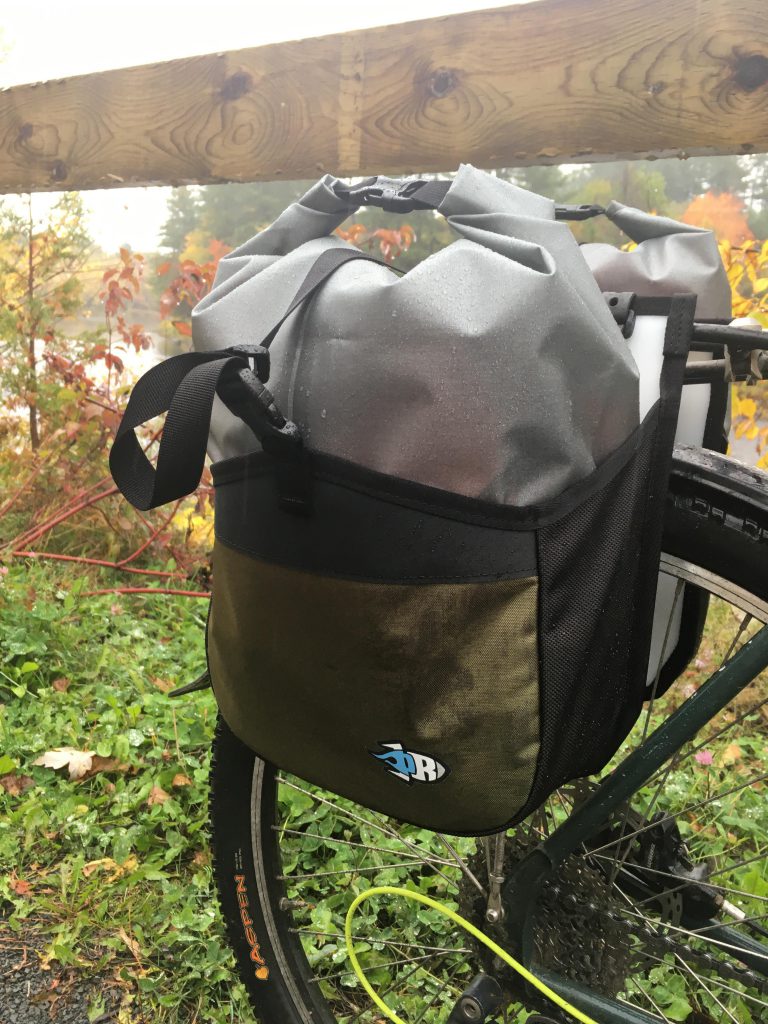 They are built around a removable dry bag system so seemed perfectly suited. Like all of PR's gear I've had/used/abused before, these came through with flying colors. My stuff stayed completely dry. I'm not sure what sort of witchcraft the dry bag material employs – I was a bit concerned at first when I could actually SEE the colors of my stuff inside through the bag, but they stayed watertight. love the fact that I can just pop the dry bags out and take them in the house (from the garage, where the bikes live) to load/unload them and leave them by the door to grab before heading out in the morning. Also nice is being able to haul a bag of work clothes to the office washroom easily to change. A small, easily overlooked – yet huge detail – is the fact that the dry bags are flat-bottomed and stand up on their own, a feature I highly appreciate. [2]
The 'holsters' that receive the dry bags were easy to mount up, come with a bunch of extra holes and enough strappage that I can only think they'll fit whatever kind of rig you've got. In closing these are solid goods that you could do no wrong in acquiring for yourself. Don't be fooled by Scott's rugged good looks and outdoorsy-type beard – even though he makes all this stuff for that wild and crazy packbiking and other wilderness shenanigans, I'm here to say his stuff works great for us mere-mortal commuter types as well. I love getting my stuff from small shops like PR because I know that if I ever have an issue, question or need a repair, I can easily talk to an actual human – even if they're a weird one, because really, we're all a little weird in our own weird way – amirite? [3-10] Random pictures from a soggy commute. Camera doesn't do the foliage justice – seems like on the grey days the colors pop even more.