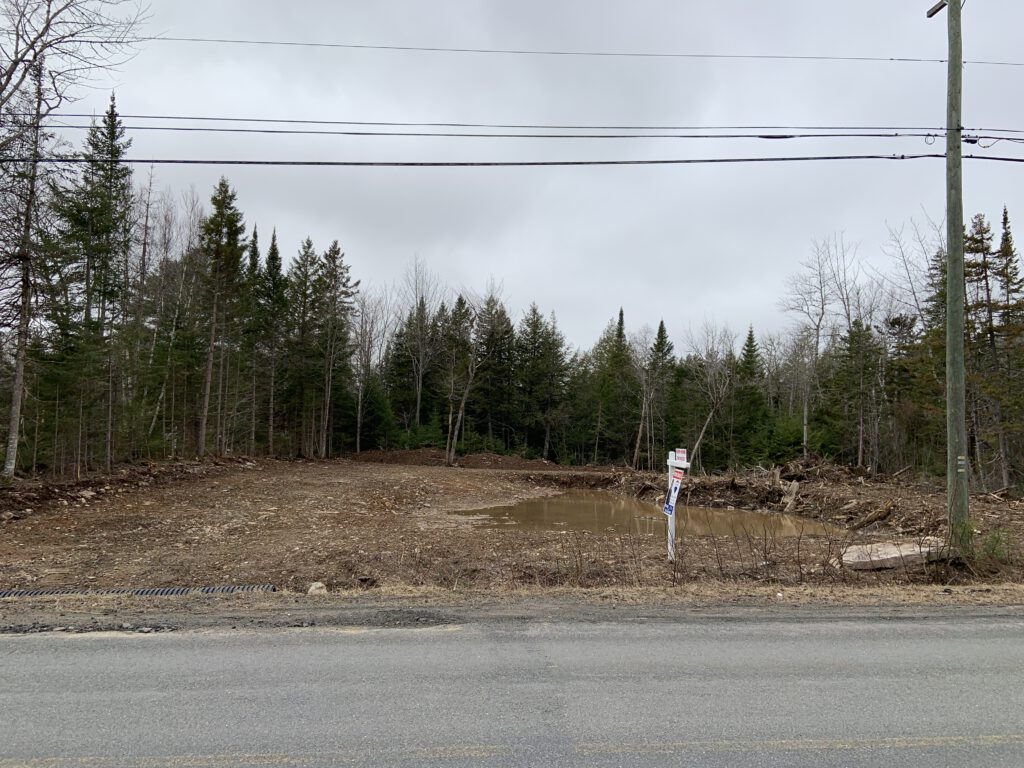 When I moved out here years ago, I loved that I was surrounded on 3 sides by woods. Even though there was neighbours at a distance, it was akin to living in the middle of nowhere. Well, my luck has finally run out and whichever developer owns the lot to one side of me has decided to put the heat on to get someone on it. I figure if I'm going to finally have neighbors, I'm going to do my best to make sure they ride bikes – so here's your pitch.
Ride bikes in New Brunswick? Looking to get out of the hustle and bustle of the GFA but still need to work there? Listen up.
Location, Location, Location
This lot is centrally located to all kinds of cool bike shit, and I'm not just talking about my bike clubhouse/garage.
Road
This lot is smack in the middle of some great road riding. Quiet country roads with rolling hills and scenic vistas abound. The lot is a mere 20minute ride from the infamous Tour de Dog loop, and it is easy to string together all kinds of rides out towards Stanley and points North/Central New Brunswick. You can ride as little or as long as you want, include a loop into town for espressos and pastries and back home no problem.
Gravel
Oh, excuse me, do you ride the gravel? Well lucky for you this lot is surrounded by it. From the multi-use Gibson/NB Trail and the cush crusher dust surface that rolls leisurely out of Fredericton and runs almost literally behind this lot, to gnarly fire-roads, atv trails and forestry access roads, you can go until you quite literally get lost. You can ride to Minto the long way. Pack snacks and a spare tube or 3.
MTB
This lot is located handy to New Brunswick MTB history. It's a scant 15 minute ride from the venerable Hadley Trail System. "This trail system was originally maintained by the legendary Hadley family and has been adopted by RVC. The former location of the Hadley Challenge Race until Hillside trail was cut off by the new bypass highway." Hot tip, you can still ride Hillside though, because it's a total blast. Another hot tip, I still see Mrs. Hadley out on the the Penniac roads sometimes. I'd say I chat her up a bit, but she consistently drops me.
Notable as well, this lot is a 1/2 hour ride from the formidable and popular MVP Trail System via either the shoulder of the Marysville Bypass or the NB Trail.
Finally, if you're feeling super saucy and ready for an epic – you can connect to any one of the local MTB systems in Fredericton and get back home relatively easily. The UNB Woodlot (ssshhhhh), Odell, Tower Trails, Kilarney and even Islandview out there in the Hinterlands could all be hit up from your lot in a loop that begins and ends at your front door. How do I know? I've done them all.
Quit driving your bike to the trailhead. That's so passé. All the cool kids know the ride out is warm up and ride home is recovery. Make it all count. It's much easier to stomp your buddies in the woods when you've already reached FTP on the ride out.
Commute
Wanna ride to work? Who doesn't? 3 seasons of the year this lot is a 30-40 minute ride from the heart of downtown Fredericton along the well maintained Gibson/NB Trail – maybe even faster if you've been working on your intervals and pay attention to things like how much your brake levers weigh. Think you're hardcore? You can ride all the way in in the winter as well on the same trail, packed by snowmobiles. A fat bike, a hearty constitution and a bigger time window are recommended but the feeling of accomplishment and the sights you see along the way are well worth it. Ask me how I know.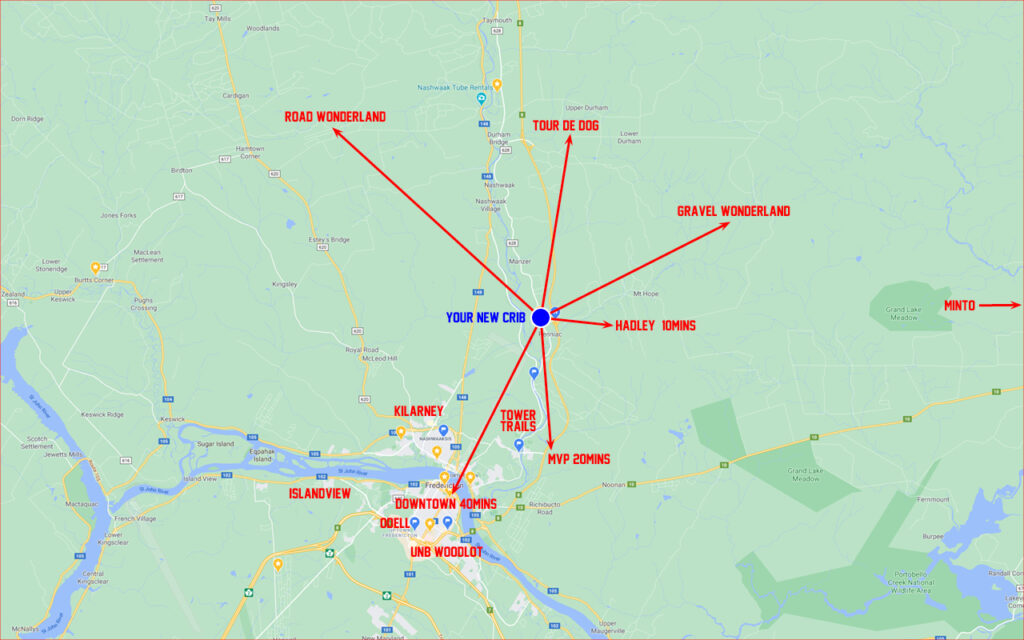 Neighbours with Benefits
I'll be the first to admit, living next to me is probably not always going to be a bowl of cherries. My dog likes to run away sometimes and I'm pretty fond of the occasional skinny dip in my pool – but the pros may outweigh the cons? I can try and keep the skinny dips to nighttime when it's dark?
Consider that you'll be living next to a guy that has a garage so full of bikes I can't fit any cars in it and won't for some time. It's also stocked with a slew of bike-specific tools and I even have a modicum of knowledge on how to use them. Word on the street is if you ply me with enough coffee, pastries, books or some combination of the three, I will almost-willingly work on your bikes for you, but you may have to hang out while I do and listen to my bullshit and 90's alt rock cassettes on the boombox. I do at least have a library of bike-related books and magazines for you to peruse and ample seating.
I'd like to say that you'd always have a ready and willing riding partner, but the reality is that I'm just plain weird, and sometimes, lazy. If you want to chalk that up as a 'con,' well then you go right ahead.
Ready to Buy?
Here's the guy you need to talk to. Let me know when you're coming so I can make coffee.