It's cool and often damp here in the Maritimes and it happens to be my favorite time of year to ride bikes. Not least of all because it means I get to wear my most-favorite cycling shoes evar, my Giro Alpinduros again.
These have proven to be my hands-down favorite shoulder-season/fall/early winter/early spring shoe. They're comfy, solid, warm and best of all waterproof – remembering of course water will get in over the tops if you submerge 'em that high – don't ask how I know this. I did one day stumble upon the Alpinduro-specific gaiters/covers they make for these and snatched those up right away too – and they work a treat.
They're low-key enough looking that they fit in at the store or the coffee shop, and the fact that they're a mesh between a cycling shoe and hiking boot actually makes strolling (or hike-a-biking) a rather pleasant experience. The tread isn't super aggro and there's no toe spike holes, so they're not an ideal 'cross shoe, but I don't want 'em for that anyway. They are on the heavy side, but I'm willing to make that trade off for the warmth, waterproofness and walkability.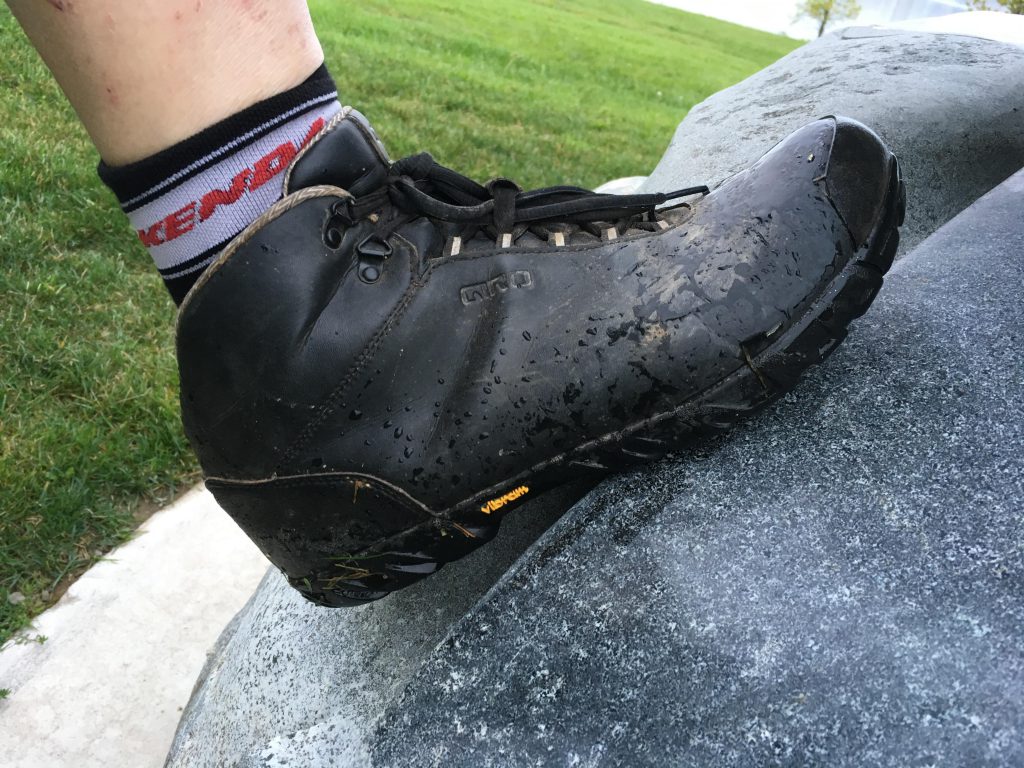 I've worn them on MTB rides, commutes and even on road rides on the go fast bike during cold weather without any issues. I don't know exactly, but I'd hazard to say I've had no problems with cold feet down to 5 degrees below zero Celsius, especially when paired with a good cold weather sock and/or liner. This is actually my second pair – the first were warrantied by Giro after the sole delaminated – a known factory defect with some batches that they supported and have since remedied. I liked the fit of the footbed and Vibram soles on these so much that when I needed a summer/warm-weather shoe, I didn't hesitate to pick up some of their Terraduros.
Giro didn't pay me to wear these or write this, though with my mad 32 followers, surely it's their marketing error. If you're looking for some solid, warm, comfy on-and-off-the-bike cold weather shoes, you should be 'influenced' to check these out, says I.