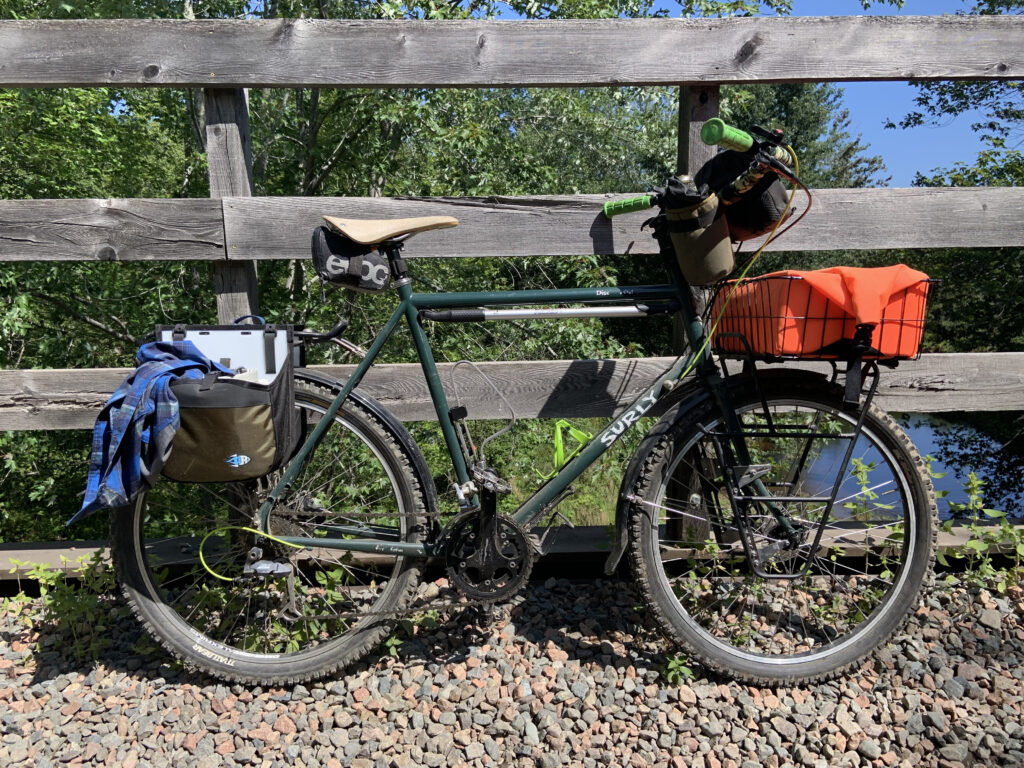 I'm pretty sure I've commented elsewhere here on my acquisition of this Surly Disc Trucker frame and fork from my buddy Matt some years ago – and how initially I didn't really dig it. Then tried to sell it. But didn't, and since have been grateful to the bike gods for putting the kibosh on that.
Now that I have it uniquely appointed for how I want to ride and use it, it has become indispensable. My buddy Cam, the mechanic at my LBS, dubbed it 'The Picnic Bike' due to my penchant for taking it on #CoffeeOutside trips and snack runs and presumably also because of the basket. It's become the go-to for those kinds of rides and grocery/errand runs in any and every kind of weather.
The Porcelain Rocket Microwave Mini-Panniers are perfect for the camp chair and hammock I keep in them at all times and the dry bags stow easily in the PR basket bag until needed. The RandiJo Fabrications Bartender and Jeff and Joan's Bags keep all kinds of stuff handy on the bars.
Awhile back the Maxxis Aspen semi-slick MTB tires I'd put on it initially were worn thin and needed replacing. I didn't want to sink a bunch of money into tires and I had these old IRC TrailBears that had been hanging in my shop for literally years – brand new – I'd purchased them for a 26″ mtb that I no longer own. I wasn't sure they'd fit on this bike and clear the fenders, but lo-and-behold, here they are.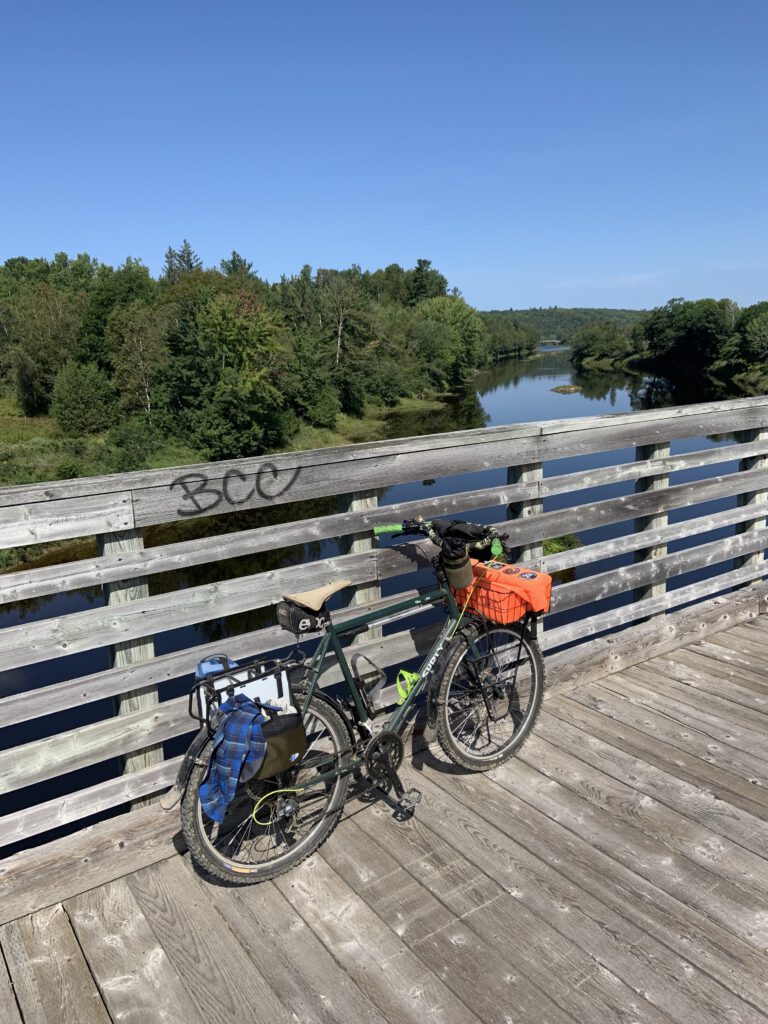 With the super-aggressive tread of these tires, the bike took on even more of a Jeep stance. It's already green and like a Jeep will tackle most kinds of terrain – it's pretty easy to find yourself underbiking on this thing. Like a Jeep it will go down most any road or trail you can find – just don't expect to go fast. Like a Jeep it will smooth out some of the bumps, but not all of them, and as a consequence anything not lashed securely in place will rattle, bounce and clank around making a considerable racket on the way. On the plus side, that lets the bears know you're coming. It weighs a ton and isn't exactly 'nimble', but conversely it's steady and predictable, and you can pack a shit-tonne of stuff in/on it.
At this point it keeps getting better with age/patina and is almost perfect. Additional upgrades I'd like to make eventually are a leather saddle, a bottle cage that will hold a 1L Nalgene and a dyno front hub and lights to make it even more versatile.
Loving The Jeep. Not for sale.