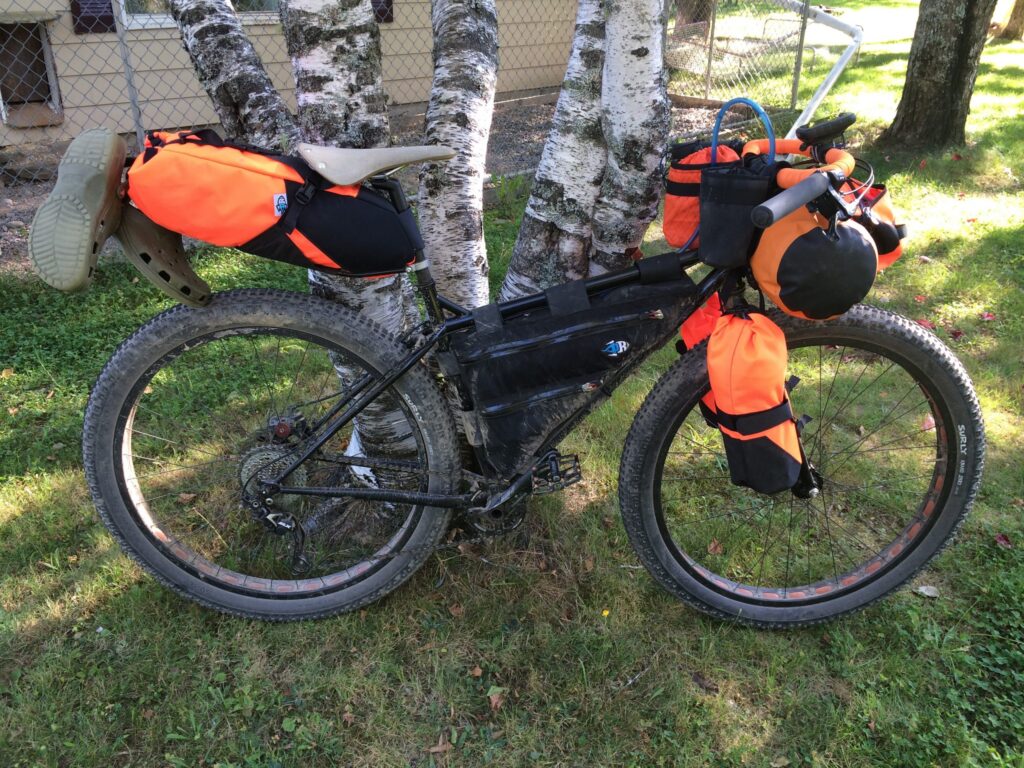 I honestly don't remember when I first saw a fatbike. I know it was a Surly Pugsley. It may have been a prototype floating around the interwebs. I do remember when they first put a production one in the catalog. I remember thinking that it was awesome. And I knew instantly a lot of people weren't going to get it. Not right away anyway. I was excited about it.
Many years later, after following along on the development of fat, I finally landed a Pugsley. It was winter of 2013. All along I had been drawn by the snow capabilities of it. After all, that was what was being touted too. I planned to try and commute with it through the winter along the snowmobile trails in my region of the world. Though it proved to be – and still is – plenty snow-capable, my commute just turned out to be too long geographically to make it work – for the time being. Having to get kids out of bed, moving and on buses in the am didn't leave me enough time to get to work through the snow. I resigned myself to the evening and weekend blasts through snowshoe and footpacked trails in the woods, still good times.
Even before the snow melted, I started to get curious. I had suspicions. "I wonder how this thing would handle on dry singletrack? How would it feel on the trails?"
Turns out – as many people now know – that answer was pretty damn fantastic. The big tires suck up the bumps, provide a smoother and more enjoyable ride and give beginners and more advanced riders alike a much bigger margin of error. After a few rides in the spring through the woods, I was sold. My conventional MTB hung in the garage all summer. I had a new #1.
Many of the local XC/race cats all poopoo'd it. "It's slow. It's heavy. There's no front shock." I wasn't concerned too much with going fast. I was just concerned with going. Even then, having had a taste of how the bike handled the trails, I told 'em, "you wait. The tech will catch up. They'll get lighter, faster. People will be racing 'em."
Even more than that, I saw fatbikes as a primo beginner mtb. They offered some of the benefits of a full-sus bike, but still provided some rigidity and had less moving parts. Initially they were cost-prohibitive, but again, I told people who came into the shop – "you wait, the price will come down. More people will be making 'em."
I still maintain that anyone looking for an entry level MTB hardtail now should at least give a fatbike a try. Especially considering that the cost of fatbikes has come down and many can be had at the same or lower pricepoint than an almost equally appointed hardtail. I know several people now who have started mountain biking on one and now have no intention of going to a conventional MTB. And as a bonus, they've got way more riding season.
Around this time too, I started commuting on mine as well. Being that I could ride to and from work almost entirely on crushed rock trails, I wasn't worried about being speedy on the pave. I was worried about carrying stuff from time to time though. Groceries from the farmers market. Clothes for work. Stuff. Never been much a fan of backpacks on the bike though.
I started checking around for gear. Racks, bags etc. There wasn't much initially. People still thought fatbikes were a fad. They were gonna go away.
Then 2 things happened – and I don't remember what order they happened in, but they did. I stumbled on an article whereby someone had built up a set of 29″ wheels for their Pugsley and I started noticing lots of blog posts about guys strapping all kinds of junk on their bikes and going camping. These were holy shit moments for me.
Eventually, as I kept slogging along in my commutes and reading the internet all day, guys started putting bigger than usual mtb tires on these 29″ rims and also started making custom bags to carry stuff into the woods as it was easier handle the bikes in tight spaces with the gear secured closer to the bike vs. hanging about on racks a la more conventional touring.
These guys were camping, and mountain biking in between camping spots. Hnnnnng. Count. Me. In.
So eventually the formal monikers of 'bikepacking' and '29+' eventually became lexicon. During this time it dawned on me that the Pugsley would be an excellent platform to launch a sort of 'multi-purpose adventure bike'. I could set it up with different wheels and tires, as well as different cargo configurations to suit all kinds of different terrain and trips and still maintain relatively the same feel and cockpit.
So that's what I did.
There's no argument that there are other bikes out there that will excel in some conditions where this one will be only ok, but there's no one perfect bike. I wanted to try and create a jack-of-all-trades, knowing it would be a master-of-none.
So I had the stock 26″ wheels with 3.8″ tires. I built me up some 29″ rims to run 3″ tires. I got some racks and panniers for hauling the kitchen sink on trips to the market, or say, with the kids where I might have to carry gear for 2 or 3, but also got some fast and light bikepacking bags for solo adventures. If I really want to pack some shit, I can combine the two.
So thats what we've come to. What I've dubbed the Pugsley Adventure Bike. Snow? It'll do it. Sand? Yep. Singletrack? Loves it. Long gravel grinds? Sho' nuff. I've yet to christen it with an overnighter, but I will. That's the only thing left to do.
Build Spec
Frameset
Surly Pugsley 'Necromancer Edition', Moonlander Fork
Seatpost clamp: Surly Stainless, 30.0mm
Drivetrain
Crankset: SRAM x5
Chainring: Blackspire narrow-wide, 32T
Bottom Bracket: SRAM
Rear Derailleur: Shimano XLS, clutch, 9-speed
Cassette: Shimano Deore, 9-speed 11–32t
Chain: Shimano Deore, 9-speed, narrow-wide
Pedals: 45 NRTH Heiruspecs/Crank Bros. Candy C
Components
Headset:Cane Creek 40
Brakes: Avid BB7, 160 mm rotors front and rear
Brake Levers: Avid BB7
Shifter: Shimano XT 9-speed
Stem: Bontrager RL
Handlebar: Jones 710 mm Loop Bar, Aluminum
Grips: ESI Jones, Extra Chunky
Saddle: Brooks, Cambium C17
Seatpost: Kalloy
Wheels – 26″ Fat Setup
Front Hub: Surly Ultra New, 135 w/ bolts
Rear Hub: Shimano Deore
Rims: Surly Rolling Darryl
Spokes: DT Swiss Champion, 12mm brass nipples
Tires: Surly Nate, 26″ x 3.8″, 60 tpi rear, 120tpi front
Wheels – 29+ Setup
Front Hub: Surly Ultra New, 135 w/ bolts
Rear Hub: SRAM X9
Rims: Surly Rabbit Hole
Spokes: DT Swiss Champion, 12mm brass nipples
Tires: Surly Knard, 29″ x 3″, 120 tpi
Cargo Components
Frame Bag: Porcelain Rocket El Gilberto
Handlebar Harness: Porcelain Rocket MCA System
Seatbag: Porcelain Rocket Mr. Fusion
Salsa Anything Cages on Fork with Porcelain Rocket Anything Bags
RandiJo Fab Bartender Handlebar Bag
44 Bikes feedbag
Old Man Mountain Phat Sherpa front and rear racks
Serratus (formerly MEC house brand) front and rear pannier sets